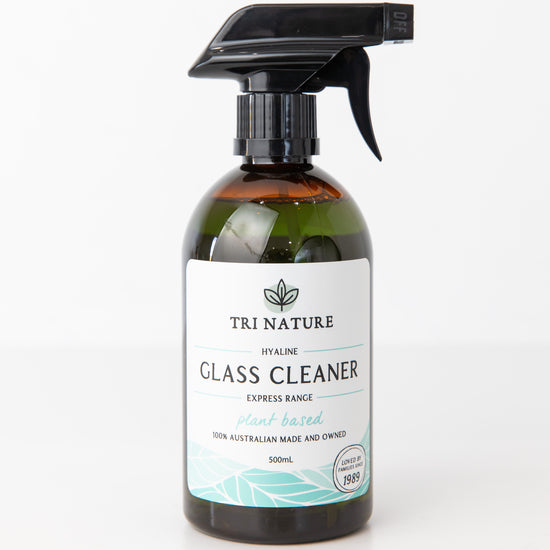 Introducing Tri Nature's Glass Cleaner, your eco-conscious solution to effortlessly remove soils, fingerprints, and grime from your Kiva Wellness products, glass, windows, mirrors, and other reflective surfaces. Crafted from high-performance, naturally-derived ingredients, this spray cleaner ensures your surfaces are not only clean but also gleam with a crystal-clear, streak-free sparkle.

Key Advantages:
Streak-Free Clarity: Achieves a flawless shine without any streaks.
Ammonia-Free Formula: Gentle yet effective, with no harsh odours.
Multi-Surface Versatility: Perfect for glass, mirrors, benchtops, and appliances.
Plant-Based Ingredients: A safer, greener cleaning option.
Ready to Use: Comes pre-diluted for immediate use.

This cleaner is an environmentally responsible choice, suitable for family homes and catering to a vegan lifestyle.

Eco Credentials:
Environmentally Friendly

Grey Water & Septic Safe

Family, Vegan, and Animal Cruelty-Free

Australian Made

Features:
Powerful Cleaning Action: Efficiently tackles all soils, sticky residues, and grime, leaving a polished effect that resists misting, fogging, and frequent re-soiling.
Plant-Based Ethanol Solvent: A natural substitute for ammonia and hydrocarbon solvents typically found in standard window cleaners.
Multipurpose Use: Ideal for various surfaces including sealed granite, marble, laminate, and stainless steel, and suitable for both indoor and outdoor cleaning in domestic and commercial settings.

Directions for Use:
Spray over surface and wipe off using a clean, lint free cloth. Buff to a crystal-clear finish using a clean, dry cloth.
Ideal for use on glass, mirrors, benchtops and appliances.


Ingredients:
Silicone Glycol Copolymer, PEG-12 Dimethicone, Acrylic Copolymer, Water, Ethanol, 1-Methoxypropanol, Dye.
In stock & ready to dispatch
The health benefits of using our products
Faster Muscle Recovery
Longevity
Heart Health
Exercise Performance
Pain & Mobility
Reduced Inflammation
Heat Acclimation
Exercise Recovery
Better Mental Health
Improved Sleep