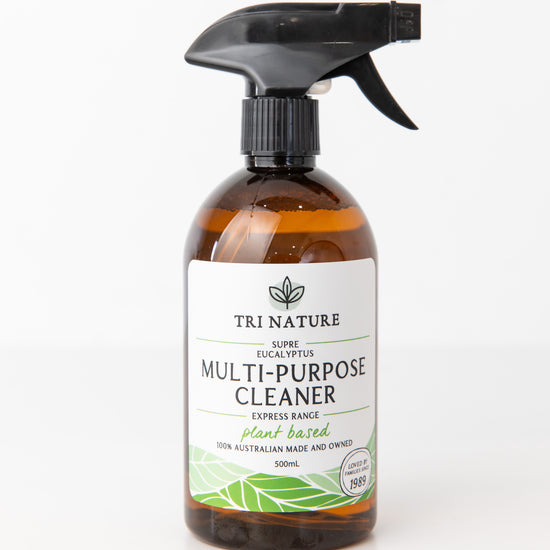 Tri Nature Multipurpose Cleaner
Experience the natural cleaning power of Tri Nature's Multi-Purpose Cleaner, your eco-friendly solution to effortlessly tackle greasy build-ups. This all-purpose cleaner combines gentle, naturally-derived ingredients with a potent cleaning action, ensuring your surfaces are impeccably clean without the harsh odours or toxic residues common in regular household cleaners.
Available in invigorating Eucalyptus, this versatile cleaner is not just effective but also a delight for the senses.

Key Benefits:
Tough on Grease and Grime

: Easily cuts through stubborn grease, leaving surfaces spotless.

Versatile Use

: An all-rounder for various cleaning tasks at home or in your business.

Plant-Based Formula

: Harnesses the power of nature for a safe and effective clean.

Safe on Most Surfaces

: Ideal for cleaning a wide range of hard surfaces.
Ideal for both domestic and commercial environments, this cleaner allows you to embrace eco-friendly practices in your home, workplace, or business.

Eco Credentials:
Environmentally Friendly

Grey Water & Septic Safe

Family, Vegan, and Animal Cruelty-Free

Proudly Australian Made

Features:
Multi-Surface Cleaning

: Perfect for tiles, marble, granite, and more. Always rinse after use.

Household & Commercial

: Tackles tough jobs in the kitchen, bathroom, and beyond.

Multipurpose Efficiency

: Replaces numerous cleaning products, saving you money and storage space.

Exceptional Cleaning Performance

: Plant-based surfactants for deep grease penetration and essential oils for a pleasant fragrance.

Directions for use:
Spray directly over the surface. Allow to sit briefly. Wipe off with a clean dry cloth or sponge.

Ideal for cleaning benchtops, stove tops, ovens, grills, refrigerators, cupboards, appliances, doors, extractor hoods, venetian blinds, bins, sinks, baths, basins, showers, toilets, garden furniture and outdoor areas.

Ingredients:
Quaternary Amine Surfactant, Methyl Methoxy Butanol, Lauryl Alcohol Ethoxylate, Essential Oil based fragrance, Citric Acid, Water, Fatty Alcohol Ethoxylate, Tetrasodium Glutamate Diacetate, Dye.
In stock & ready to dispatch
The health benefits of using our products
Faster Muscle Recovery
Longevity
Heart Health
Exercise Performance
Pain & Mobility
Reduced Inflammation
Heat Acclimation
Exercise Recovery
Better Mental Health
Improved Sleep