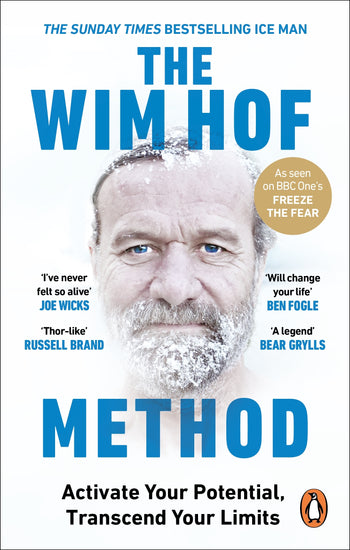 Get ready to break free from the ordinary and unleash your true potential. "The Wim Hof Method - Activate Your Potential, Transcend Your Limits" is your ultimate guide to achieving greatness and tapping into the limitless power within you. 
Why choose "The Wim Hof Method - Activate Your Potential, Transcend Your Limits" Book:
Empower Your Journey: This book is your passport to an empowered life. Dive into the core principles of the Wim Hof Method and discover how to take charge of your destiny.
Conquering the Cold: Embrace the exhilarating world of cold water exposure and witness how it can unleash your mental and physical prowess.
Transcend Your Limits: Say goodbye to self-imposed barriers. Learn the art of breaking free from limitations and embracing a life of boundless possibilities.
Tap into Your Hidden Power: Unlock the secrets of breathwork, cold exposure, and mindfulness to unleash your hidden reservoir of strength and resilience.
Embark on a Transformative Adventure: Immerse yourself in a transformative journey as you witness the power of the Wim Hof Method igniting positive change in every aspect of your life.
The Art of Activation: Learn how to activate your inner potential and ignite the fire within you. Discover techniques that will propel you toward your goals and aspirations.
Breaking Through Barriers: Explore strategies to transcend the mental limitations that have held you back and step into your full potential.
Mindful Mastery: Delve into the power of mindfulness and meditation to achieve focus, clarity, and inner peace amidst life's chaos.
In stock & ready to dispatch
The health benefits of using our products
Faster Muscle Recovery
Longevity
Heart Health
Exercise Performance
Pain & Mobility
Reduced Inflammation
Heat Acclimation
Exercise Recovery
Better Mental Health
Improved Sleep